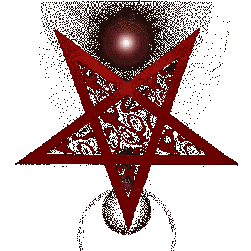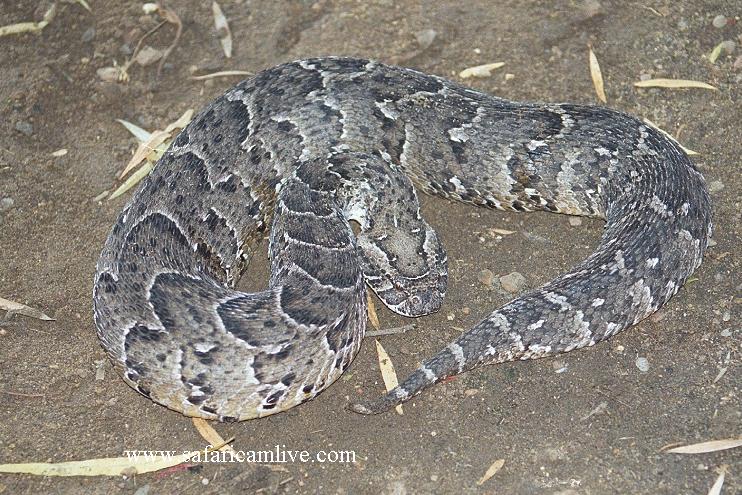 THE AFRICAN PUFF ADDER(bitis arietans)
A CASE HISTORY OF A FATAL BITE
The following is the case history of the fatal envenomation of Gerald de Bary, the director of the Hogle Zoological Gardens in Salt Lake City, Utah in 1964.
On a Saturday night in January 1964, Gerald de Bary was finishing up his reptile cage cleaning chores. For safety reasons the cages were only to be cleaned after all of the visitors had left the Gardens. At approximately 10:30pm de Bary opened the Puff Adder cage and for reasons he nor physicians could explain, de Bary experienced a brief moment of faintneess and to keep from falling threw up his left arm to catch himself, but instead his arm was thrust into the Puff Adders cage. The snake struck instantly and sank both fangs deeply into the underside of his forearm. The pain of the bite snapped de Bary back to full consciousness. he quickly closed and locked the door of the cage and summoned two assistant keepers to his aid. One of them immediatly placed an improvised tourniquet around his arm.
Earlier that evening, de Bary had shown one of his assistants where the supply of antivenin was stored in a refrigerator in the keepers room. While being helped into this room, de Bary seems to have forgotten that the antivenin was right there in the same room and he sent one of his assistants away where an additional supply was stored. In the rush the assistant forgot to bring a hypodermic syringe and had to be sent back after it. No one remembered that everything that they needed was right there with them in the same room.
Another assistant had phoned the police and requested an ambulance. In a few minutes the ambulance arrived with a police reporter named Art Kent. Kent had knowledge of the type of injection that was needed and under de Barys instruction, administered the first injection about 20 min. after the bite occured.
About 10 min. later Dr. George D. Gross arrived and noted that de Barys forearm was swelling and was becoming discolored. De Bary was quickly rushed to the hospital and was given an additional 10cc of antivenin on the way. By the time he reached the hospital he was begining to complain of tingling sensations in both hands, abdominal cramping and a severe burning pain in his left arm and shoulder. His left arm was packed in ice. (not a good idea) During the night additional serum was given at 30 min. intervals and several shots were given to relieve the pain. His temperature rose to 105dg. and he went in and out of shock. His breathing had become so difficult that oxygen had to be given by mask. By 8:00am the following morning his pulse was weak and rapid at 200 beats per min. In order to improve the action of the heart he was digitalized. An hour later Dr. Gross ordered a tracheotomy be performed due to a swelling over the throat that was worsening. By then there was massive edema of de Barys left arm and the left side of his chest. Voiding urine had become almost impossible and attempts were made to use an artificial kidney but every time it was begun de Bary went into shock.
At 5:30am Monday morning nearly 30hrs. after being bitten by the Puff Adder, de Bary seemed to be holding his own fairly well. Dr. Gross noted with satisfaction that his vital signs were stable and there was a general improvement in his clinical condition although parts of his body, including his face, were severely swollen due to a tremendous amount of serus fluids in the tissue spaces. De Bary was well enough to talk and even joked with his wife at one point. An hour later there was a sudden drop in his blood pressure and his heart stopped beating. all attempts to revive him were ineffectual and at 6:30am Monday morning Gerald de Bary was pronounced dead. The pathological examination that followed showed de Bary to be a man in good physical condition at the time of the bite with no abnormalities that may have contributed to his death. It must be pointed out that the snake which killed de Bary only struck in self defence. The doctors could find nothing wrong with de Bary that may have caused his sudden faintness.
E-mail Address: bitis666@yahoo.com Amazon.com Order ID: 104-9407736-8643908 Total Due: $25.97 Purchase Date: 06/06/2003 Step 1: Make check payable to Amazon.com. Step 2: Please include order ID and e-mail address on check. Step 3: Please send check to: Amazon.com Billing Department P.O. Box 80463 Seattle, WA 98108 USA Please Note : Contact Us - Distributors - Catalogue Invoice Order #1398 Date: 06/06/2003 20:48:24 PDT Thank you for your order. Please keep this invoice for your records. Ship To: Bill To: Name: steven landreth Name: steven landreth Email Address: bitis666@yahoo.com Email Address: bitis666@yahoo.com Phone Number: 336-992-1219 Phone Number: 336-992-1219 Address: 522 jefferson st. kernersville, NC 27284 US Address: 522 jefferson st. kernersville, NC 27284 US Code Product Quantity Price/Ea. Total 1012 Sexuality, Magic and Perversion 1 $16.95 $16.95 1014 Speak of the Devil 1 $27.95 $27.95 Shipping: USPS: $6.50 Sales Tax: $0.00 Total: $51.40